Up-to-date with version 3.0.5908
Menu Layout
Edit


There are three options for the main menu layout, which can be set in Layout Preferences or the Panels Configuration window.
Show as Button (Default)
Show in Caption Bar [the Tabs Bar and the Main Menu cannot both be in the Caption Bar]
Show Below Caption Bar
Top Left Menu
Edit
The icon at the top left of the MusicBee window contains a menu with popular items from the other menus. For the similar menu in the Compact Player, see Compact Player.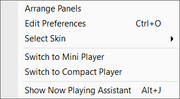 Ad blocker interference detected!
Wikia is a free-to-use site that makes money from advertising. We have a modified experience for viewers using ad blockers

Wikia is not accessible if you've made further modifications. Remove the custom ad blocker rule(s) and the page will load as expected.