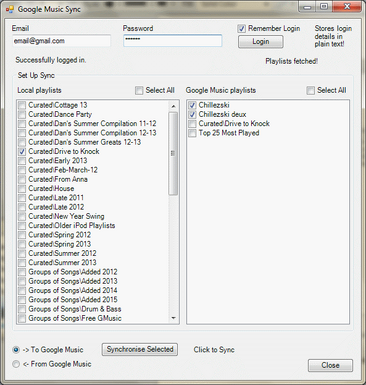 This plugin is no longer working due to changes of the Google API
Useful Links
Edit
Description
Edit
This plugin is a fairly simple utility to copy your playlists between MusicBee and Google Music. I built it to get my MusicBee playlists available on my Android phone. The plugin lets you copy playlists from MusicBee to Google Music and vice versa.
If you choose to synchronise a playlist, the plugin will delete irreversibly any playlists with the same name on the other end. That means if you copy a playlist named "Hello" from MusicBee to Google Music, any playlists named "Hello" will be deleted from Google Music. Likewise, if you copy a playlist back from Google Music, it will delete any local playlists with that name.
Copying from Google Music to MusicBee may fail if you have a complicated playlist structure (more than one level of nested directories, playlists stored in multiple locations).
This plugin does not upload music. For each playlist you wish to copy, it creates a playlist and then searches the other library for each song in turn. Your MusicBee and Google Music libraries must be more or less the same for this to work.
Installation
Edit
Download the plugin from the link on the forum thread. Extract all DLLs to your MusicBee/Plugin directory.
The source code for this and the Google Music library it uses are all available on GitHub.
Open the MusicBee preferences by clicking on the bee in the top left and selecting "Edit Preferences". Under the "Plugins" section, choose to Enable plugin google music sync. Click "Configure" to open up the preferences dialog. If you just get a window telling you about the plugin, you may need to close MusicBee preferences and open them again.
First, log in. Enter your Google credentials in the box. check "Remember Login" if you wish for your details to be saved, and click "Log in". Note that if you check "Remember Login" your details will be stored.
NOTE: You need to enable "Google Account Login for Less Secure Apps" if you haven't already. If you don't, logging in will fail. Go here to enable it.
The text below the login box will indicate whether login is successful. Once login is complete, the plugin will immediately connect to Google Music and start fetching your library. [b]If you have a big library, this may take some time[/b]. My library's approaching 20,000 songs and this process takes almost 4 minutes. Be patient! The number of songs fetched so far is shown on the top right.
Your MusicBee playlists should appear in the left hand pane. Once playlists are fetched, the status will read "Playlists fetched!" and your Google Music playlists will appear in the right hand pane.
To synchronise playlists, select which direction you wish to copy them using the bottom left radio buttons. Select the playlists you wish to copy in the relevant pane and then click "Synchronise Selected". The status of the sync will appear on the bottom right.
Known Issues
Edit
Trying to use the plugin on a version of MusicBee before 2.5.5524 will cause it to crash before loading MusicBee. Update MusicBee if this happens.
If you have a playlist directory structure which includes nested (ie 2 or more) directories, copying [b]from Google Music[/b] may cause issues.
I'd appreciate any feedback. I'm not going to add any features, but let me know if you have any bugs or problems.
Ad blocker interference detected!
Wikia is a free-to-use site that makes money from advertising. We have a modified experience for viewers using ad blockers

Wikia is not accessible if you've made further modifications. Remove the custom ad blocker rule(s) and the page will load as expected.